Living Room

This room is large enough to be arranged in two possible ways: A) dining area + area with two sofas, or: B) dining area + bedroom area + area with a sofa.
You choose.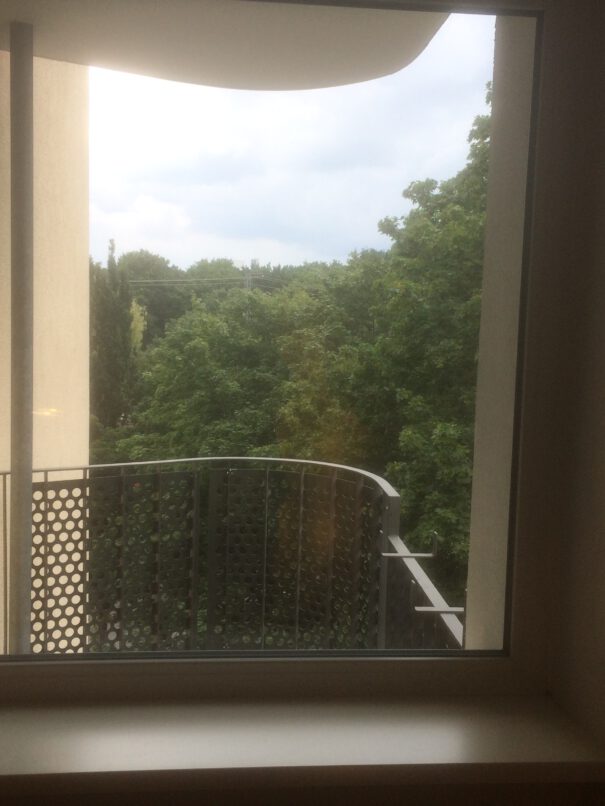 Facing the river Spree and the Tiergarten park, on the fourth floor of an acoustically and thermally insulated building; this living-dining room enjoys light even in the winter months since there is only the park in front and it faces south.
You can organize it in various ways and adapt it to your, family or group, specific needs.
In this room there is a 1Gb/s modem-router with 4 ethernet connections. It also has a large Philips screen and a Samsung Blu-ray player connected to the internet on which entertainment apps can be installed. Additionally there is a Medion sound system also connected to the internet that you can use, for example, with your Spotify account or use it to improve the sound on the screen when watching movies or series.
We have installed a folding bed on the wall; it is a newly designed piece of furniture, with its own built-in lighting, and offers maximum comfort for rest. It is ideal for groups, large families, or when you have overnight guests.
*This video content is hosted by a third party. By clicking the play button you accept the cookies and terms and conditions of youtube.com
Although all the image-sound equipment in the apartment is operated intuitively, we have compiled some instruction manuals that may be useful to carry out the more complex configurations. If you have any questions, do not hesitate to contact us.
These panoramic images of the living room were taken before introducing some new pieces of furniture.
The living room has a double sofa bed and a single one, as well as a double folding bed attached to the wall.